#Ballet & Tweet – S14-15 EP08
15 novembre 2014
|
Catégorie :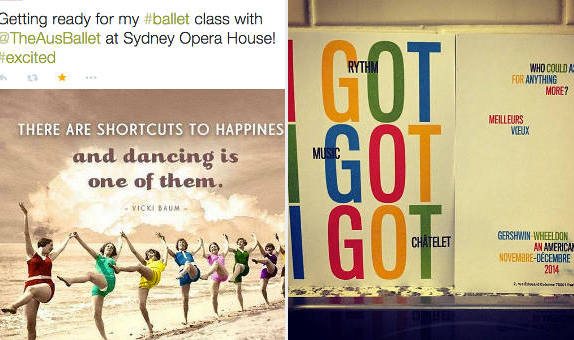 Drôles, en photo, enthousiastes ou grinçants... Voici le meilleur des réseaux sociaux de la semaine danse.
Samedi 8 novembre - La photo danse "qui met de bonne humeur" de la semaine.
Getting ready for my #ballet class with @TheAusBallet at Sydney Opera House! #excited pic.twitter.com/Fts6oirCco

— Kerri Turner (@KerriNTurner) November 8, 2014
Dimanche 9 novembre - Le road-trip italien des aficionados de Roberto Bolle en 2014.
@robertobolle #superbolletour2014 - Is he ready yet? Are his friends ready yet? Are WE ready yet?? Tic, Tic, Tock! pic.twitter.com/JCvBOS8XMq

— Blue~ (@BlueRasberrry) November 9, 2014
Lundi 10 novembre - Le quotidien d'un danseur, parfois plus gore qu'un film d'horreur.
Done. pic.twitter.com/7NUCybHlRZ

— Edward Watson (@_edwatson) November 10, 2014
Lundi 10 novembre - Un Américain à Paris, ça approche, ça approche...
  Mardi 11 novembre - Les bonbons géants de Casse-Noisette, attention à l'indigestion.   
Mardi 11 novembre - Le grand jeté de la semaine, ombre comprise.
Photo of the day: Kyra Opdyke. (Photo by Natalie Lynn) #shadow pic.twitter.com/NOVlWsdYri

— Dance Spirit (@Dance_SpiritMag) November 11, 2014
Mercredi 12 novembre - La vie d'une danseuse n'est pas toujours aussi glamour que dans les magazines.
Last swim of Odette not so glamorous but so good ice "bath"! @ENBtweets-swans we have a new one:) #recovery pic.twitter.com/FvB92yxXPE

— Alina Cojocaru (@DancingAlina) November 12, 2014
Mercredi 12 novembre - La tendance des cadenas paraît moins affreuse lorsqu'elle concerne Giselle et Albrecht.
Jeudi 13 novembre - La photo souvenir-trop-mignonne de la semaine.
beginning. when trees were tall... #throwbackthursday #dianavishneva pic.twitter.com/czEBhPYug9

— Diana Vishneva (@dianavishneva) November 13, 2014
Vendredi 14 novembre - À la barre à trois semaines de l'accouchement, normal.  
Check out Mum & #BabyMcRae still in Ballet Class with only 3 weeks to go! @TheRoyalBallet @mothercareuk pic.twitter.com/sXpmB4AOzy

— Steven McRae (@_stevenmcrae) November 14, 2014
Vendredi 14 novembre - Les Prix AROP de la Danse 2014 sont attribués à Léonore Baulac et Allister Madin.
Le clip vidéo avec @ALLMadin et @LeonoreBaulac a tout de la pub de parfum et @jibeyatelier a déjà trouvé le nom : eau de Garnier.

— la souris (@grignotages) November 14, 2014
Une soirée qui sent bon le champagne - les dorures de Garnier - la chaleur du taxi - les nuits parisiennes.

— ♕ Joséphine (@JoPrincesse) November 14, 2014